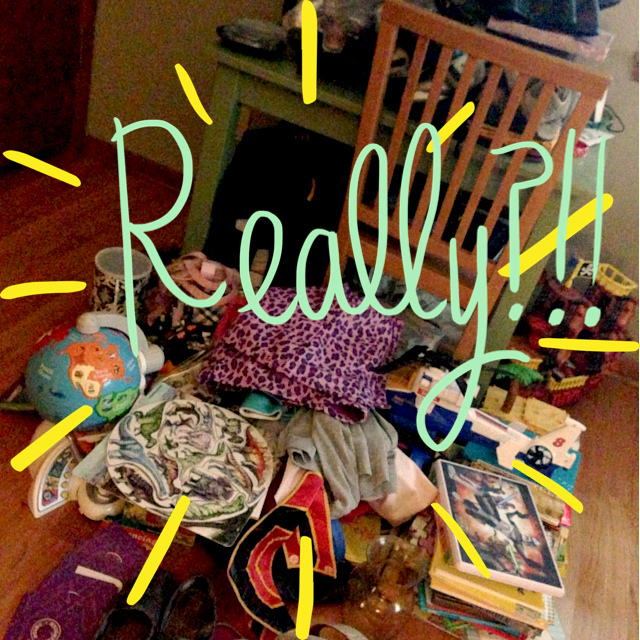 Piles of stuff fill our house. Piles for a possible moving sale if I really get my action together, piles for Goodwill, piles to pack and piles for this person and that person that I've been meaning to give them like 7 months ago. There are boxes stacking higher as the days go by and our walls are bare. And if you've been to our house you know the drastic difference this is because I feel the need to fill my walls with LOTS of goodness. Excessive, much? Whatevs, it's my thing.
Plain and simple: It's getting crazy up in here.
The usual somewhat summer schedule is not in tact and honestly never really got started. Meals have been less than acceptable, swimming has substituted for baths far too often and the TV has been on way more than I'd like. I'm pretty sure their brains are mush. There have been no cool, fun summer crafts or outdoor, super awesome activities. My kids have seen me on my phone pretty much 24/7 talking with realtors, general contractors, roofers, insurance agents and moving companies. I have no idea what I am talking about but whatever it is, I am talking to these people ALL THE TIME!
Are we going to make it? Well yes, yes we are. Will we be ok. The kids will be ok. I have to keep reminding myself this when I look around and see our house in disarray and my kids eating another meal in front of the TV on paper plates.
When chaos abounds around me I am reminded of my new fave song from Hillsong, Oceans. I was introduced to it by a new friend, Naptime Diaries who has just survived a similar moving situation. So yes, there is hope!
Love these words…singing them loudly as I pack away…
You call me out upon the waters the great unknown where feet may fail. And there I find you in the mystery, in oceans deep my faith will stand. And I will call upon your Name, and keep my eyes above the waves. I am yours and you are mine.

Take me deeper than my feet could ever wander and my faith would be made stronger in the presence of my Savior. Spirit lead me when my trust is without borders. Let me walk upon the waters wherever you would call me.