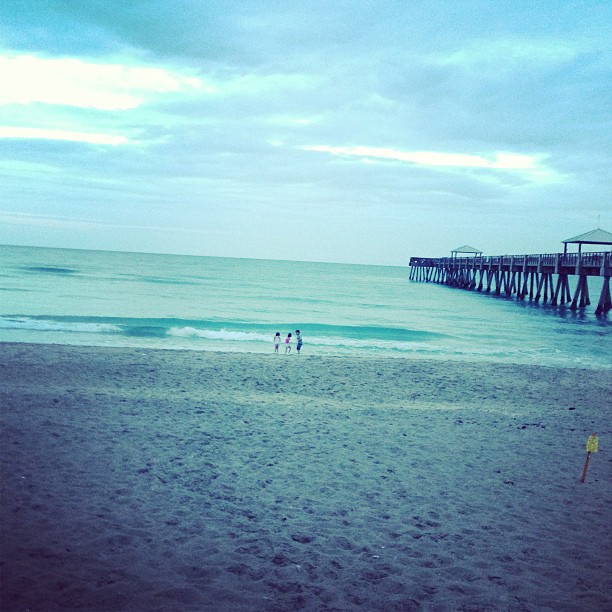 Two weeks ago today our family moved to Florida from Indiana. Life is very different here in Florida. There have been some very welcomed differences and others…well, it will take some time getting used to others.
Here is a little bit about our new life.
Geckos of all sizes everywhere outside and yes, a couple have even made it into our home. Gecko hunting is the kids favorite activity these days. They've yet to catch one.

We've been swimming in the neighborhood pool or to the beach everyday except one. The one day I said no, it was like I was giving the kids some sort of cruel punishment.
We came from a ranch home on a 1/2 acre lot. Now we live in a 3 story town home with no yard. Lots of differences, like climbing stairs.
Sand is all over our car and will be from now on. It just is.
The kids and I have conquered the Health Dept. and the DMV. Not without tears (me included) but we did it.
School uniforms. Enough said.
I'm a directionally challenged. Me and Google maps have become the best of friends but still I am lost at least once a day.
The beach! The glorious beach! Still blows my mind that I can run to the beach or Brian can ride is bike there. On Saturday we went for just a couple hours as a family and then left because we can go back anytime. Crazy.
Everyday there is something new to get used to or something to tackle. It's overwhelming and emotionally exhausting. The range of emotions to sort through could make you drop to your knees. And that's just thinking of the big people in this family, not to mention the three little people that are trying to make some sort of sense of our new life. Though they are getting a little tired of each other at times because there are no other friend options yet, I have seen them bond together in a special way. I have seen them take brave steps to try new things, moments of flexibility when we don't exactly know what's going on and pure enjoyment in discovering new things. But this is not to mask the fact that we have had some moments my friends. Some hard, break your heart moments. It's normal and we are committed to taking one day at time together.
We tried a new church this weekend, not my favorite process truth be told. It's just tiring and uncomfortable but its important and part of the deal so you do it. As I was standing there during worship trying not to feel uncomfortable and fidget constantly I was reminded that even though pretty much everything in our life is different God is the same. He is constant and unchanging. He is the stability when everything else around us is feeling very crazy and not stable.
One day at a time. Each day we learn something new, settle in a little more and attempt to take a step forward. Somedays we may not step forward, just stand still or even step back. But maybe the next day we'll step forward. It's one day at a time over here, relying on the One thing that hasn't changed, Him. For that I am thankful
Looking forward to keeping you all updated as we start this new chapter of our lives!