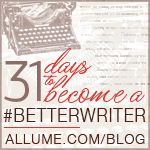 I have a blog. So does that make me a writer?
I have asked myself this question from time to time. Other blogs I have read say so, but it is hard for me to say yes confidently. I'm not sure why. Maybe because I am not that confident in my writing. My blog is really just me opening my heart a little bit. It's a place where I share our little piece of the world.
But does that make me a writer?
Well I don't know. But I am hoping to explore this question and grow in my writing through a series that started yesterday called 31 Days to Become a Better Writer. It is hosted by Allume.
So whether you have a blog or not. Whether you consider yourself a writer or not. Or still trying to figure it out like me. Won't you join me in following along with this series? I think we might learn a thing or two!