1. I'm on hunt for a new bedspread. It's not urgent, definitely don't need it anytime soon since we won't be settled in our new place for awhile. But it's fun to look and when the time comes to buy I'll be ready. I'm on an Anthropologie kick right now. Love that store! Can't really afford anything in there but it's great inspiration! Here is what I like right now. Isn't it just fun?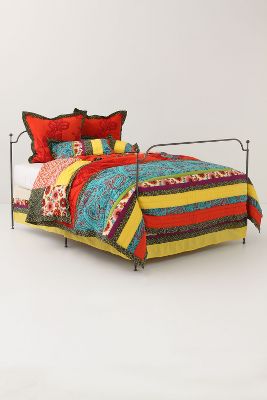 2. So March Madness has started. I enjoy filling out a bracket even though I don't watch much basketball throughout the year. I pick my teams based on weird things like the sound of their names, if I randomly heard a sentimental story of a player or coach or any kind of connection I feel I have to the team. So one would think I would pick my alma mater Ohio University to at least win their first game even if they were said to have NO chance at all. Well I did not. And guess what? THEY WON! #14 OU beat #2 Georgetown! Crazy. Proud to be a Bobcat. Wish I had more faith in them when I was filling out my bracket. But just so you know, as I write this I am wrapped up in my OU blanket. The pride does run deep, really. Go Bobcats!
3. The ball is rolling. We have started looking into moving companies, talking through options of what, when, where, HOW? We are making steps toward our departure from Chico. I've also started cleaning out things. Oh the clutter we collect. Here's a pic of some stuff making its way to Goodwill tomorrow. Feels good.

4. I'm always searching for new crafty blogs. One that I love is One Pretty Thing. I love it because it compiles a bunch of craft ideas everyday. So fun and inspiring! Now if I could just find the time to do some of these crafts…
5. And just a couple more pics from our St. Patricks day party yesterday. 13 kids plus moms and we had a great time. We made one-a-kind leperchaun noodle necklaces, fruit loop rainbows, went on a leperchaun treasure hunt and ate a lot of green food and sugar! Yes, lot of fun.