Without a word Theia went out the door to sweep the grass off the sidewalk. Not 2 minutes later Kaia was asking me to get her broom down.
"Are you going outside?" I asked.
"Yes, Theia is all by herself."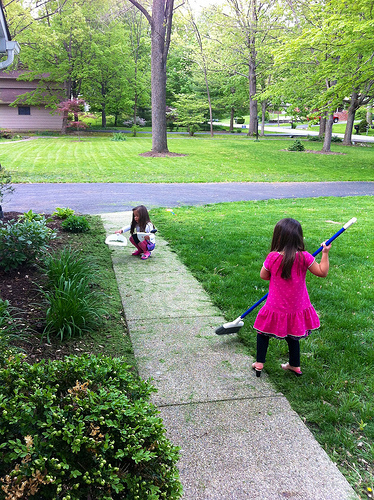 Oh, I just loved this. She didn't want her sister to be alone.
It made me think how we all need "our person". We need that one person to look out for us, to come along our side no matter what. We need that person to listen to us, to encourage us, to be our cheerleader when no one else is. We need that person who we can call anytime of day for whatever we need or maybe just to sit on the other end of the line so we are not alone. That person is the one who will speak truth to us, laugh with us and cry with us.
That person will see when we are alone and run to join us. Just because.
Who is your person? And while you are thinking of it, are you that person for someone?