Responsible. Strong.
These are two words I would love hear people describe me as. And in fact, I have heard those words. My heart soared with pride. Yes, that is me! That is what they see me. They see me as the responsible friend, the responsible daughter, the responsible co-worker. I am strong, I can handle it. Don't worry about me, I got it.
Yes, these words fill me up.
But…is this what I really want? Is this what I really want to fill me up?
Always taking on the responsible, strong role can only go so well for so long. I have a tendency to be over responsible. I am responsible for all outcomes, good or bad. I am responsible for others feelings. To keep them feeling good or help them not feel bad. I am responsible to always be responsible in all situations at all times. You can see how this would be physically and emotionally exhausting and not to mention impossible to be successful at.
What if I mess up? What if I look weak? What if I look like I don't have it all together and then others will see it and then they will think this (fill in the blank) and then they won't like me.You know how our minds get the best of us and the thoughts go on and on and on like  a run on sentence.  Showing weakness has been a fear of mine that I struggle to let others see.
I like the "look" of the responsible, strong, got it all together girl. But I don't like the life that comes with it. It's lonely, exhausting and really not worth it. The outside looks impressive and fabulous. But the inside is not so pretty. This is what turned me back to letting go of myself and letting Him in again when I was college. I was tired of being tired. I had to let go. 
Best decision I've ever made. I saw that He really wasn't looking for the responsible, strong girl. He wanted the mess and the weakness. He wanted to carry it for me. And not just my mess but He wanted to carry me too.
"Come to Me, all who are weary and heavy-laden, and I will give you rest."
It's hard to let go of the "the look" that we think so many others have (but they really don't) and accept "the look" that maybe isn't so pretty or desired. It's hard to accept that this is what He's calling us to. He wants to make us pretty. It's not of ourselves.
So let's let go of "the look" that we all carry around in our head and try to recreate in ourselves. Let's be real, authentic and accept one another and the grace that He is freely giving out to make us better than we ever be could on our own.
Linking up today with Grace for the Good Girl book club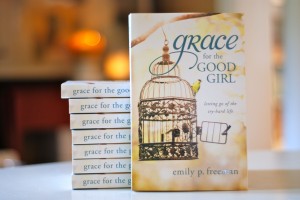 And Write It Girl summer challenge!