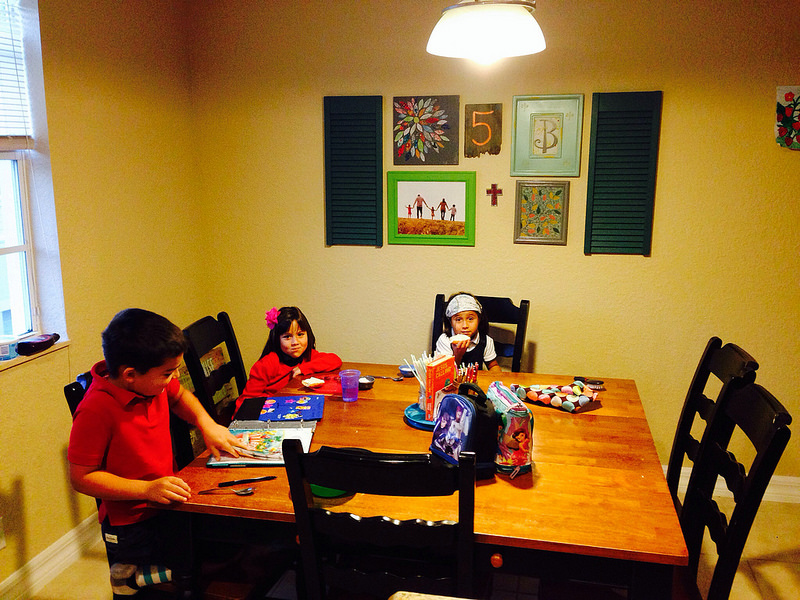 My attempt each morning is have a smooth, rather quiet, efficiently run and encouraging time before we all go our separate ways. Does this always happen?
Well, no. Maybe 50% of the time. And that is being generous.
I like to pack lunches the night before but sometimes as soon as the kids go to bed I basically fall over onto the couch in sheer exhaustion. Which leads to random throwing of food items into lunch bags in the morning. And then I hear about it later from the little people.
I like to get up way early and work out and shower and be ready for the day before I wake the kids. Sometimes I'm running late and I have little sleepy eyed greeters while I am still showering. So nice.
I like to have a quiet time by myself without the many questions of the day already starting before 6:30 am. But sometimes they are up and the words just can't possibly stay in their mouths any longer.
I like to have a little devotional while the kids eat breakfast and we just take a moment together before the day starts. But there are times when no one is listening and I'm reading to no one, someone has to go poop in the middle of reading or it just doesn't happen at all.
I like to have a morning when we all casually make our way to the car with smiles on our faces and everyone seemed to know exactly where their shoes are. But there are mornings when I am pushing people out the door with their shoes in their hands.
Yes, my goal is to set our family up well for the day with a peaceful, easy morning. But reality is there are usually tears from someone, there are times we are running late, breakfast and shoes are in hand while we pile into the car and everyone is NOT smiling.
Doesn't matter. We take a deep breath. We pray as we take the 5 min drive to school and we try again tomorrow. These little people count on me to help them navigate through this world. It's crazy, wild, sometimes scary and disappointing but I want them to know that no matter what we have each other, tomorrow is a new day and we will be ok. We are doing the best we can, with what we have, where we are at.
So whatever kind of morning you had, I encourage you to keep going. Don't give up, because what you are doing makes a difference.