1. my new creation of a sandwich: english muffin, orange marmalade, ham, brie cheese and onion broiled for about 5 min. so good with the sweet and salty taste together. and any toasted sandwich is yummy in my book!
2. i have started a new workout using my 20lb kettlebell. i'm doing 75 reps (of the most common swing) 3x a week. i try to do as many as i can at a time, take a minute break then finish the rest. kettllebells are a great whole body work out. really good for your core and this is perfect on days when i don't have a ton of time to work out. try 'em out sometime if you haven't yet. it's a great kick your butt workout in a short amount of time!
3. there is an anthropologie less than 5 miles from our new house. excitement is not even the word! maybe then i could go and buy this…ha ha! yeah right. but a girl can dream and get great ideas and then looking for something similar in my price range:)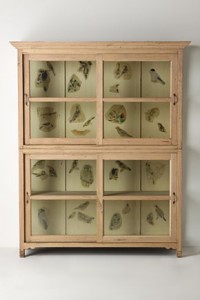 4. i'm getting my haircut and colored in less than 2 weeks. it is so past the time to do something with my hair. i figured new city…new haircut. i'm thinking layers and…..bangs. we. shall. see.
5. the girls LOVE their cousin kenzi. they love not being the youngest. they love being little mommies to her. they love showing her the ropes of playing babies. they love being the leader bossing her around. right now kenzi loves it all too so it works out for everyone. oh and notice the hat kaia has on, yeah she has had that on now for 6 days. won't take it off, even to sleep. at least she looks stinkin' cute in it!