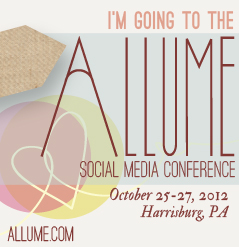 In just a couple weeks I will road tripping east to the Allume conference. Say what?!? Allume is a Christian blogging conference. I am super excited and nervous all at once. I am going with my local partner in crime Jenni who has become one of my best friends. So thankful to have her to enjoy this whole experience with. We are meeting up with Christie, an amazing gal and someone who has become such a dear friend. Christie, Jenni and I have been chatting back and forth online now for over a year. Words cannot express how excited I am for all of us to meet in person! So the three of us are not only meeting one another but we are rooming together at the conference. Good times are to be had for sure. But I feel I need to prepare these girls a bit for being a roomie with me.
Here are 10 things they might want to know:
I'm more of a morning person than a night person. There will come a point in the night when I just shut down. It's bed time. Trust me, you want me to get good sleep.
I will take time to plan my outfits before I come but mostly certainly I will second my choices and I will need your reassurance that what I have brought is the most perfect  choice and I can't go wrong!
I like to have a bedtime snack. So I will probably ask you to go on a hunt around the hotel to look for something to eat. No worries, I will share:)
Again, I am a good sharer so clothes, accessories, beauty products: it's all up for grabs in my opinion.
I wear contacts except for the 10 min before I go to sleep and the first 5 minutes before I pry my eyes open to put my contacts back in. So…you may see some funky glasses that may or may not be held together with super glue at the time.
I will run in the mornings. Therefore my sweaty, stinky running clothes will be displayed in room somewhere to air out. I. Am. Sorry.
My face says everything. Anything I am thinking will be displayed through my facial expressions. Sometimes this is good. Most times not. Again. I am sorry.
There will be a point when I hit maximum capacity of social interaction. Our room will be the safe place. Just go with it.
Music is necessary when I get ready. You will probably see some crazy, absurd moves which I call dancing.
There are no other two people that I would rather room with that get to enjoy all this goodness about me!
I'm linking up with my friend Stacey who is also attending Allume. Are you going too? Don't you want to share a little bit with your roomies?