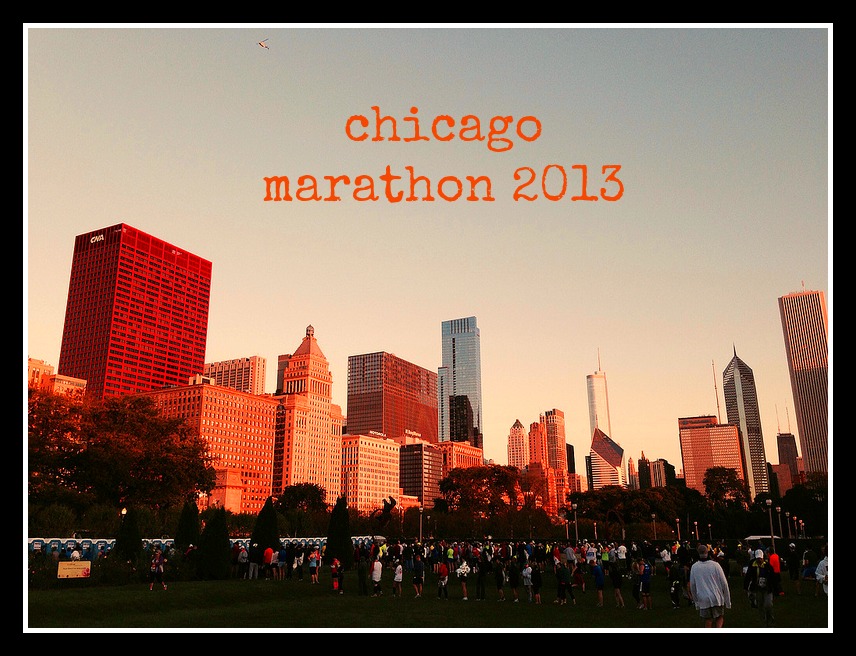 It's been almost 2 weeks since I ran the Chicago Marathon. Mentally and physically I think I am still recovering. It was a whirlwind 36 hours in Chicago let me tell you. The weekend didn't quite go as I had planned. There was that minor mishap when one of the engines in the plane went out so we had to make an emergency landing in Cincinnati. Then after a series of events with the airline that were almost comical by the end, I finally got on another plane 6 hours later. Unfortunately I missed the race expo and even more importantly my much awaited hang out time with one of my best friends and training partner Jenni. By 6:30 I made it into the city along with my friend Amanda who also happens to be the best race supporter/manager of time and all details/cheerer EVER! I am so thankful she was with me. She loves crazy and fit perfectly in with the craziness of weekend.
Race morning started VERY early, after little to none sleep. But I was ready! Ready to go and do this race that I had trained so hard for. The weather couldn't have been more perfect. Clear skies, cool weather. After only seeing 80 degrees and higher in Florida I was freezing but loved it! I was so thankful to have Jenni by my side at the start. We decided to do the race together (well I may have pushed a little hard to get her to say yes). And now we there, together. After some long months of training, some (a lot) of complaining, doubts, prayers, encouraging one another, pulling and pushing each other. It was an amazing feeling. I was beyond proud of my friend and what she was about to experience and accomplish.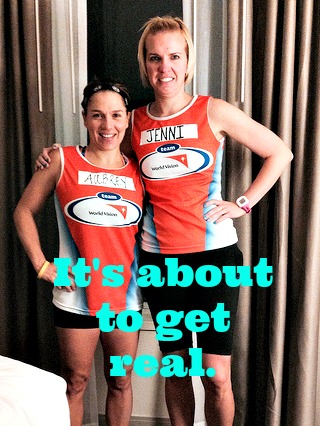 I had an amazing race. It was by far my favorite of the 4 marathons I've done. And it just so happened to be my best race at 4:05! I felt strong the entire race. I enjoyed the race. Honestly, I had fun. I was amazed at the crowds of people that lined the streets the ENTIRE 26.2 miles. I didn't know a single person out there and only ended up seeing Amanda and Jenni's family one time at mile 2 but I never felt alone. I had my name on my shirt and heard my name at least 500 times. They looked me in the eye and cheered for me like we were long lost friends.  I got high fives from kids, firemen, a policeman, a nun, a priest, men and women of all ages, race and religion. Our differences didn't matter on the morning of the race. 45,000 runners and 1.7 million spectators were brought together in the cause of people choosing to do something hard and others wanting to support them in their choice. It was beautiful. I smiled more during that race than any other with encouragement of complete strangers who became friends as I passed them and with the reminders of WHY I was running- Team World Vision and my Grandma.
My training for this marathon was harder than any other. Getting TO the race was hard. Being there without family was hard. But all of that paled in comparison to the race experience I had. I am thankful. It was all worth it.
Thank you to Brian and the kids for their support and encouragement along the way. Thank you to everyone who supported me in this race by donating to Team World Vision. Lives were changed because you said yes. Thank you for joining me. Together we made a difference.