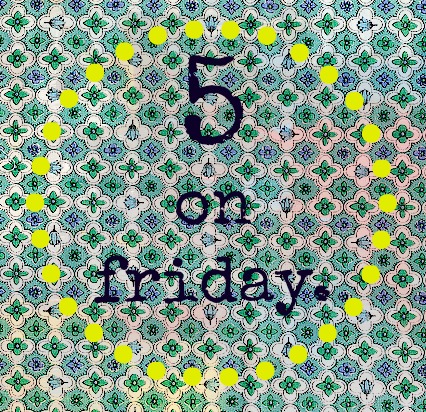 1. This has been on my foodies Pinterest board for awhile. I finally made this week and now  I'm wondering why I waited so long! It was delicious and everyone loved it! Quick, simple and healthy. Gotta try it!

2. Lookey lookey who got new glasses. Yep, just jumping in with the trend and going with the bigger dark rim glassess. I like. You?
*Sidenote: Did not get my hair chopped off like my Mom thought, just in my everyday ponytail:)
3. Two weeks from tomorrow I will be running a local half marathon. I am excited and getting to that point where I just want to do it! It's been a great session. I've enjoyed doing it with a friend. This is the most consistent I've been with doing weekly speed work outs and lo and behold I do see a difference! Hoping to get a PR!

4. He's baaaaaaack! The cast came off Monday and he hasn't looked back since. The smile when it first came off was priceless!

5. Going on a road trip this weekend to parents in Ohio. Kids have packed their travel bags. We'll leave as soon as school gets out! My parents house has been "home" to me since second grade. There is always a physical sense of relief as our car merges off the exit to my parents house. Sigh. Of. Relief. I can actually sit down and relax when I'm there. There aren't the 100 million little things I can see that need to be done when I'm here in our own home. Don't get me wrong, I love our home but it's just different. Not to mention two eager grandparents that want to do everything they can with their grandchildren. Christmas was our last visit and basically the last time I sat down and relaxed so it's time to visit again. I'm joking…kind of. But there is NO question, 10 hours round trip of driving is well worth it!
Have a great weekend! Looking forward to that sunshine and warmer weather that is coming our way here in the midwest!